A film school is any educational institution dedicated to teaching aspects of film making, including such subjects as film production, film theory, digital media production, and screenwriting. Film history courses and hands-on technical training are usually incorporated into most film school curricula.
Here are the list of film schools in Uganda
Kampala Film School
Proline Film Academy
Universal Institute of Graphics and Technology
Proline Film Academy
Acting Classes Kampala Uganda
InFocus Film School
Alpha child care uganda
Mediavision Academy
Universal Movie & TV Institute
Uganda Film and Television Institute
What subjects do you need for film school?
Introduction to Digital Filmmaking.
Screenwriting.
Mathematics.
Film History.
Film Theory.
Cinematography and Lighting.
Digital Editing.
Music and Soundtrack.
Uganda Film School Fees Structure Courses
Below are the List of the courses offered at the Kampala Film School in Uganda.
Screenwriting/ Dramaturgy
Directing
Production
Cinematography
Editing
Animation
Graphics Design
Sound Design and Engineering. And finally,
Film analysis.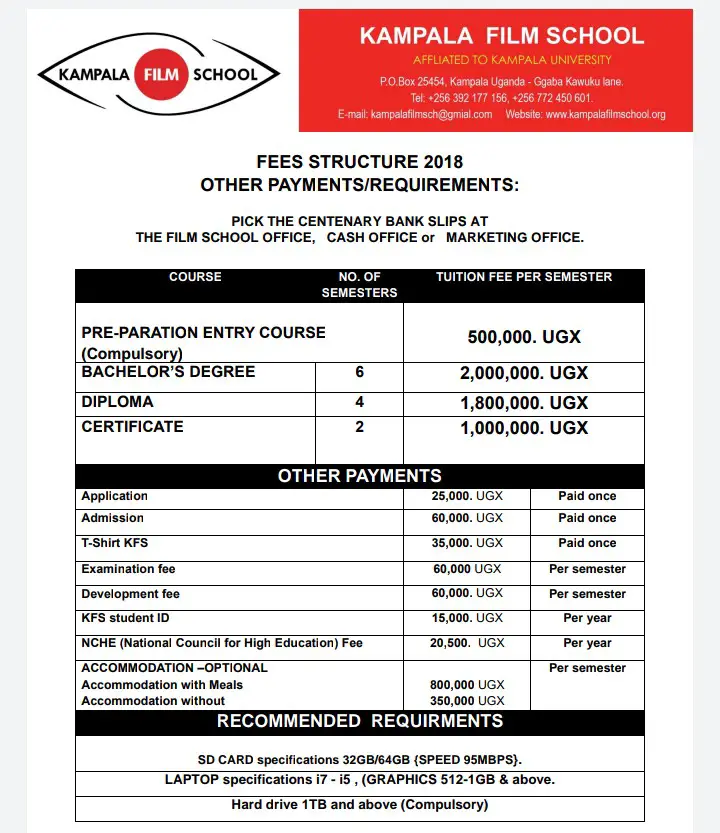 Contacts
Kampala Film School
Gaba Road At Kampala University
UGANDA, P.O Box 25454
Tel: +256 -392177-156
Email: kampalafilmschool@ug-manuel
How do you join film school?
Students need good grades both during their high school and secondary studies and on standardized tests. They also need to be well rounded, involved in community service, clubs and sports. To get into a good college, you have to be the total package, and applying to film school is no exception.